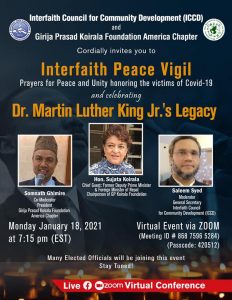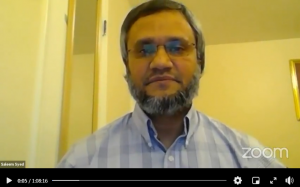 Mr. Somnath Ghimire, President  of the America Chapter of the Girija Prasad Koirala Foundation
Mr. Saleem Syed, Moderator, and General Secretary Interfaith Council for Community Development (ICCD),
Congressman  Gregory James,
NYS Attorney General Letita James,
Public Advocate Jumaane Williams,
Police Commissioner Dermont Shea,
State Senators Leroy Comrie and John Liu, and other distinguished participants,
Friends from the Media,
Ladies and Gentlemen Good morning from Nepal.
Thank  you for inviting me to join this virtual global event of Interfaith Peace Vigil and in celebrating the legacy of Dr. Martin Luther King Jr.
At the outset, I would like to express my heartfelt condolences and prayers for eternal peace of the departed souls  of the covid19 victims  and honor their memory.
I would like to pay my respectful tributes to the memory  of  Dr. Martin Luther King Jr., who inspired millions of people through his  civil rights  speech. He wanted  freedom to ring from every village and every hamlet, from every state and every city. It is this freedom which has become so precious to all of us.
All over the world, we celebrate the birthday of Civil Rights Leader Dr. Martin Luther King Jr. on January 15 every year. When we hear his name, we most often think of his legendary "I Have A Dream" speech, the civil rights movement, and, sadly, his assassination. King's  words ignited the spark inside the hearts of every activist at the time waiting for the right moment to make a difference. He said and I quote, "I have a dream that one day this nation will rise up and live out the true meaning of its creed: We hold these truths to be self-evident that all men are created equal,"  end of quote.
As a civil rights leader, he inspired countless people to fight for equality around the nation and international community including people in Asia. We have learnt a lot and our coming generations need to learn from Dr. King, his philosophy of love and equality to every human being of this planet.
Let us also have a dream like Dr. Martin Luther King Jr.. He pushed to end segregation and hoped to create a world where people were seen as people, not as the skin color they were born with and all humans are created equal.
Finally I always remember the saying of Dr. Martin Luther King Jr.:"Love is the only force capable of transforming an enemy into friend."
As we all know the  outbreak of coronavirus has been devastating in terms of cost of human lives across the globe. The covid19 pandemic has caused economic catastrophe worldwide. Global economy is shrinking, and  a great number of people have been pushed back into poverty. Covid19 pandemic has exposed the fragilities and weaknesses of even the most powerful countries.
This pandemic has taught us a huge lesson of knowing ourselves to the world, who we were and who we are now. No matter what faiths we believe in or who do we follow, but I say this humanity should be our race and it should be our religion. Now Covid-19 has also made me to think that the next evolutionary step to be kind to all.
As we live in an increasingly interdependent and interconnected world, the governments and communities require more unity, more cooperation, solidarity, and a collective and co-operative global response.
Last but not the least, I would like to pay my respectful tributes to the memory of Girija Prasad Koirala in whose name this Foundation is established. He was an architect of Nepal's peace process and always called for mutual unity, cooperation, and support to establish peace in the country and promote development and prosperity. He believed, through unity and solidarity alone, we can maintain and preserve peace in multi-ethnic, multi religious, multi-lingual  and multicultural societies like ours. It is our firm believe that diversity is our strength and interfaith alone teaches us to honor the tradition and culture of harmony and tradition which is so much needed for peace, stability and development.
I thank you all once again and it was a pleasure to speak to you all in this virtual meeting. Hoping to meet in person when situation gets normal.
Thank you all. Stay Safe and Well.