Hon. Sujata Koirala, Vice Chairman of the ACC (Asian Cultural Council) visited Siem Reap, Cambodia from 14-17 January 2019 to attend the ACC Official Launching Ceremony which was inaugurated by the Hon. Samdech Hun Sen, Prime Minister of the Kingdom of Cambodia, President of the Cambodian People's Party (CPP) and Honorary Founding Chairman of ACC. The Launching Ceremony waschaired by Hon. Khuon Sundary, Chairperson of ACC and Deputy Speaker of the National Assembly of Cambodia. The function was attended by several leaders of the political parties of Asia and other nations including the ICAPP (International Conference of Asian Political Parties) Founding Chairman and
former Speaker of the Parliament of Philippines.
Segment of Remarks made by Hon. Sujata Koirala at the ACC Launching Ceremony, Hon. Koirala expressed that:
"Recent Memorandum of Understanding (MoU) between ICAPP and United Nations Education, Scientific and Cultural Organization has provided an opportunity to work collectively for the promotion and protection of cultural heritage in the member states. Promotion of cultural tourism through cultural exchange would enlarge economic
scope as well as increase mutual understanding. The ACC need to developed deeper understanding with UNESCO that their expertise could be utilized in the Asian region to achieve the objectives of
ACC." Hon. Sujata Koirala, Vice Chair, ACC further added that:
"GP Koirala Foundation Nepal which is named after my late father,legendary leader and five times Prime Minister and President of Nepali Congress Party Girija Prasad Koirala who is known as an architect of modern Nepal and establishment of Federal Democratic Republic of Nepal, this foundation has been engaged in promoting and preserving Nepal's diverse ethnicity and culture. This is to inform this august gathering that my father assumed the Chairmanship of the organizing committee of the first World Buddhist Summit held in Lumbini in 1998.I would also like to inform all present here today that GP Koirala Foundation expresses its commitment to work for better cooperation among ICAPP member nations within the frame work of the principles of ACC and work for preservation and promotion of its objectives. We should promote open, innovative and inclusive development that benefits us all and
to promote inter‐civilization exchanges to promote harmony, inclusiveness and respect for differences." "GP Koirala Foundation will play a vital role for the socio- economical, educational, political, cultural and scientific
development of Nepal by obeying its Statute: bringing new hopes among well wishers worldwide. The G.P. Koirala Foundation of Nepal is a non for profit charity organization".
Hon. Sujata Koirala extending greetings to Hon. Samdech Hun Sen, Prime Minister of Cambodia along with founding chairman of ICAPP and former speaker of parliament of Philippians Hon. Jose De. Venecia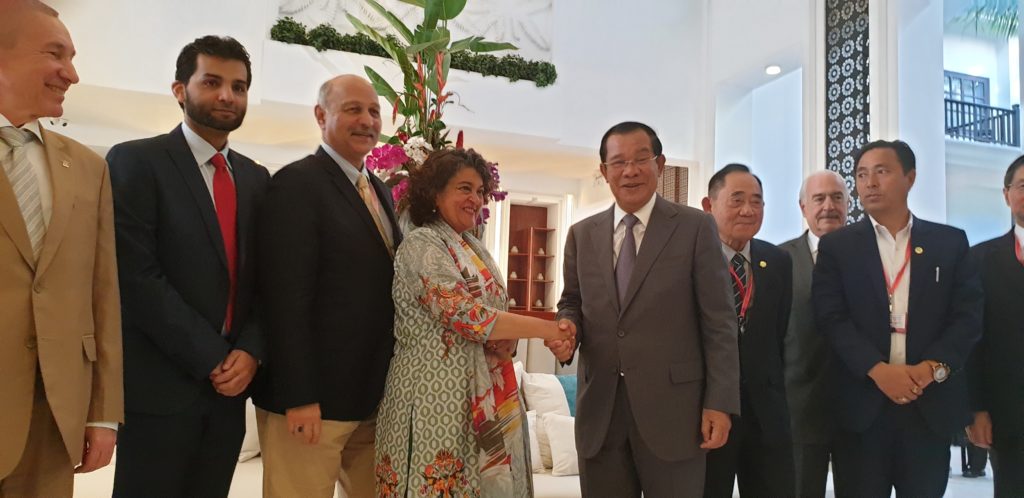 Hon. Sujata Koirala meeting Hon. Khuon Sundary, Chairperson of ACC and Deputy Speaker of the National Assembly of Cambodia and UNESCO representative to Cambodia.