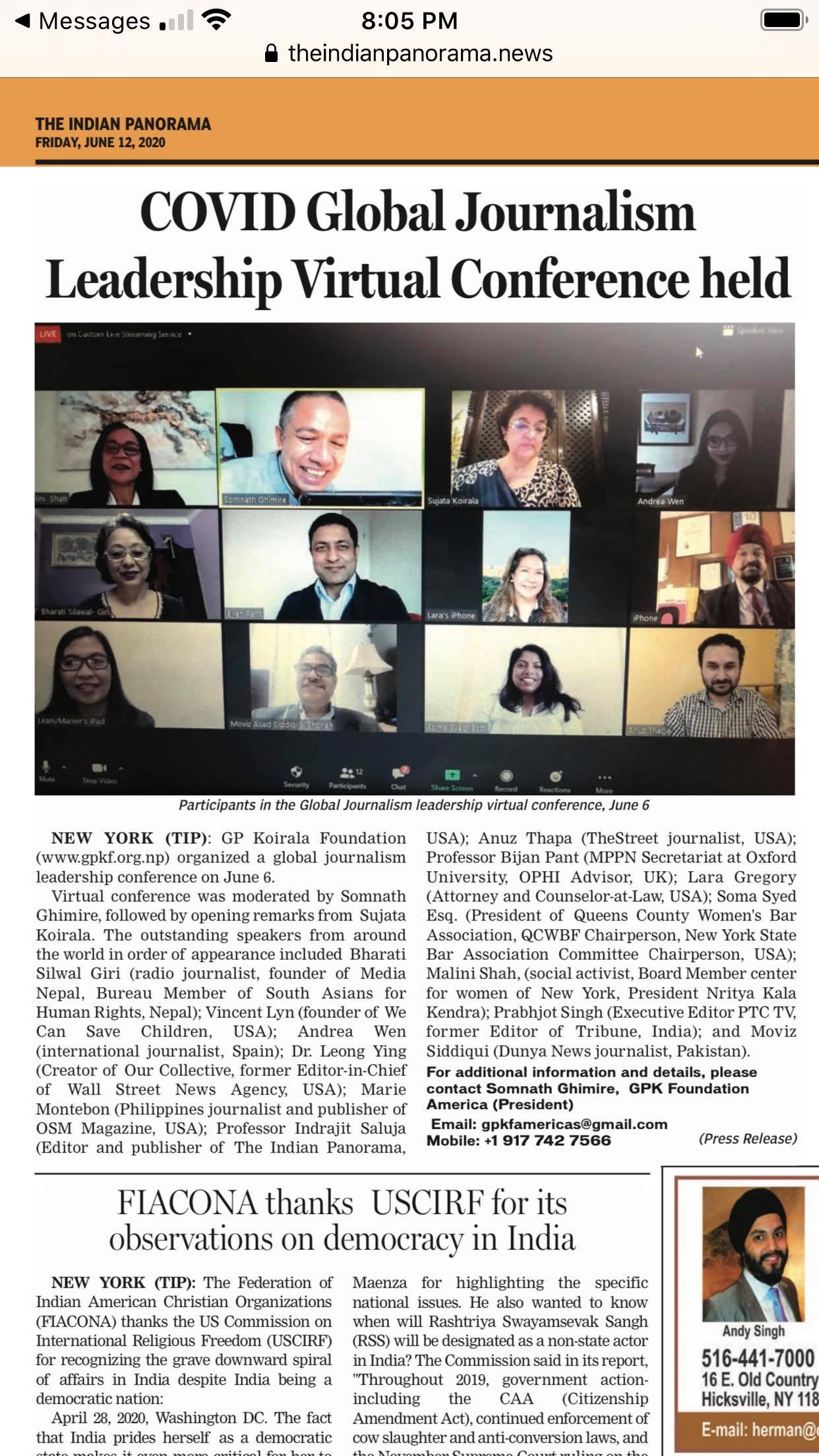 PRESS RELEASE
COVID-19 Global Journalism Leadership Conference:
GP Koirala Foundation (www.gpkf.org.np) is an internationally recognized nonprofit organization dedicated to promoting Democracy, Peace and Development around the world; as part of the lasting legacy of the late Prime Minister of Nepal: Girija Prasad Koirala. His daughter, Sujata Koirala, former Deputy Prime Minister and Foreign Minister, is now the Chairwoman of the foundation. The Koirala's are considered as the First Family of Nepal for their political activism and social reforms dating back to their nation's independence struggle with their Ranas & Shahs dynasty rule.
President of GPK Foundation America is headed by Somnath Ghimire, and it is his activism to continue the proud traditional of his foundation that he created an international forum to gather great minds and souls to deliver vital information to the rest of the world during this COVID-19 pandemic. This weekly series entitled COVID-19 Global Leadership Conference was conducted virtually through the use of the Zoom live video conference platform. The series kicked off with Women as the important topic of discussions, followed by a Medical forum consisting of world class doctors and healthcare providers at the forefront of the battle with this devastating disease.
The third in the series this weekend was related to the leadership roles of journalism to inform and educate their global audience on the reported news viewed on various international press channels and social media networks. Other COVID related topics covered by the international panel of experts included Human Rights issues and the global implications on economic developments and diplomacy.
Virtual conference was moderated by Somnath, followed by opening remarks from the Honorable Sujata Koirala. The outstanding speakers from around the world in order of appearance: Bharati Silwal Giri (radio journalist, founder of Media Nepal, Bureau Member of South Asians for Human Rights, Nepal); Vincent Lyn (founder of We Can Save Children, USA); Andrea Wen (international journalist, Spain); Dr. Leong Ying (Creator of Our Collective, former Editor-in-Chief of Wall Street News Agency, USA); Marie Montebon (Philippines journalist and publisher of OSM Magazine, USA); Professor Indrajit Saluja (Editor and publisher of The Indian Panorama, USA); Anuz Thapa (TheStreet journalist, USA); Professor Bijan Pant (MPPN Secretariat at Oxford University, OPHI Advisor, UK); Lara Gregory (Attorney and Counselor-at-Law, USA); Sorna Syed Esq. (President of Queens County Women's Bar Association, QCWBF Chairperson, New York State Bar Association Committee Chairperson, USA); Malini Shah Malini Shah(Social Activist, Board Member center for women of Newyork, President Nritya Kala Kendra-Indo-American arts and cultural forum); Prabhjot Singh (Executive Editor PTC TV, former Editor of Tribune, India); and Moviz Siddiqui (Dunya News journalist, Pakistan).